SYMPOSIUM
PROGRAMME
AUTHOR INFO
REGISTRATION
COMPANIES
PARTNERS
EVENTS & AWARDS
USEFUL INFO
WASTE TO PHOTO
PREVIOUS EDITIONS
Life Programme
LIFE is the EU's financial instrument for environmental and nature conservation projects. It aims to support the development, implementation, monitoring, evaluation and communication of EU environment and climate action legislation and policy, in particular, the priorities of the EU's Environment Action Programme to 2020. Since its launch in 1992, LIFE has supported almost 4 200 projects, contributing some €3.4 billion to environmental protection in Europe. To date, over 600 projects have focused exclusively on waste, with some €433 million allocated. In fact, waste management is the most popular theme tackled by the programme.
The LIFE programme has focused in particular on demonstrating innovative technologies for recycling specific materials from different waste streams, such as hazardous, agricultural and municipal waste. Linking waste management to other environmental topics, such as the protection of water resources and soil management, has been another issue much covered by the programme. Furthermore, LIFE has actively contributed to waste prevention by raising public awareness, promoting the exchange of knowledge and developing information tools for waste prevention and better waste management.

LIFE also focuses on innovative waste-to-energy projects as well as on the development and safe use of carbon capture and storage in the landfills to support Climate Change Mitigation EU policy and to address greenhouse gas (GHG) emission reduction targets. The most supported category has demonstrated new ways of producing biogas from wastewater treatment plants, animal wastes and closed landfills aiming to prevent significant amounts of GHG being released into the atmosphere. Moreover, many replicable LIFE projects have shown how municipal solid waste, industrial waste and agricultural and forest residues can be exploited as biomass for power generation, heating purposes and biofuels production.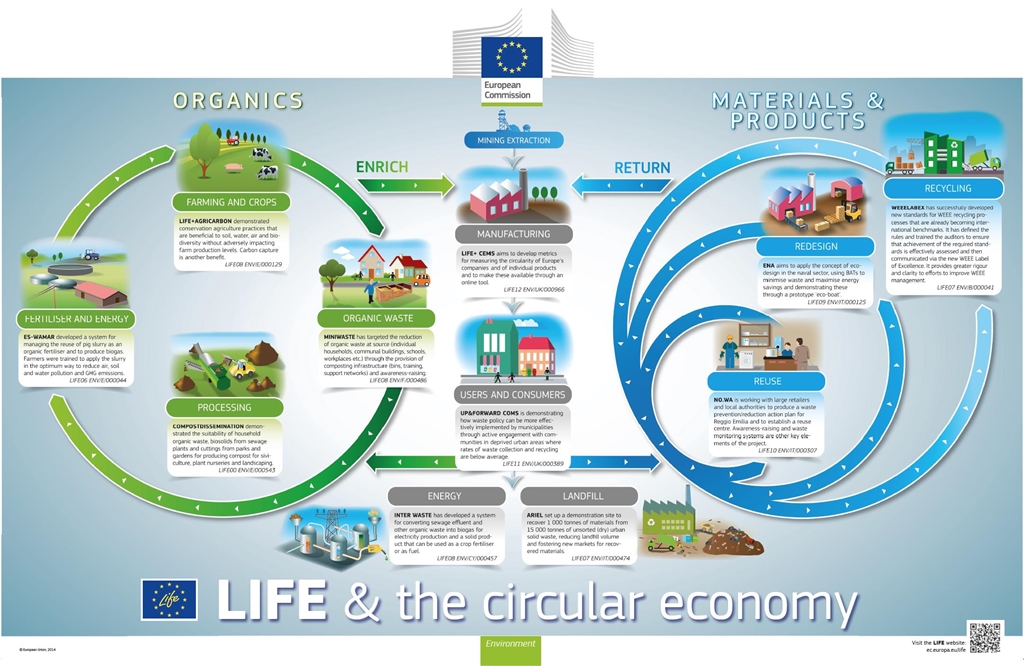 For more information about the contribution of LIFE to waste management and the fulfilment of a real circular economy in Europe, download the factsheets on waste management as well as the thematic brochures on:
Energy / Resource Efficiency / Climate change mitigation / Green Jobs and Skills

More information about the almost 4 200 LIFE projects co-funded to date is available on the project database. For more information about funding possibilities, click here.

_

LIFE Programme Communications Team
260 Chaussée Saint-Pierre
B-1040 Brussels, Belgium
http://ec.europa.eu/environment/life/index.htm